Sign up for Club Timmisa
You have now signed up for Club Timmisa
You must now log in to the portal, with your new user, by clicking on login in the right corner.
Change password
You will receive a code in your email, which you can use to change your password.
We can not find this email in the system
Add trip
Your reservation number is six characters long and can contain both numbers and letters
1944
Catering and canteen assistant
Air Greenland offers an internship for a caterer and canteen assistant so you can learn how to prepare and serve food in canteens. An important part of the work is to put together a meal and you will be trained in the work tasks that belong to the education.
The daily work of a caterer and canteen assistant consists of
---
Cater & kantineassistenteleven vil blive introducerede for et grundlæggende kendskab til køkken og kantine samt få en masse viden om service.
Learn to assess the quality of raw materials, prepare, prepare and prepare the basic assortment in canteens. Finally, the student must be able to perform ordinary cleaning.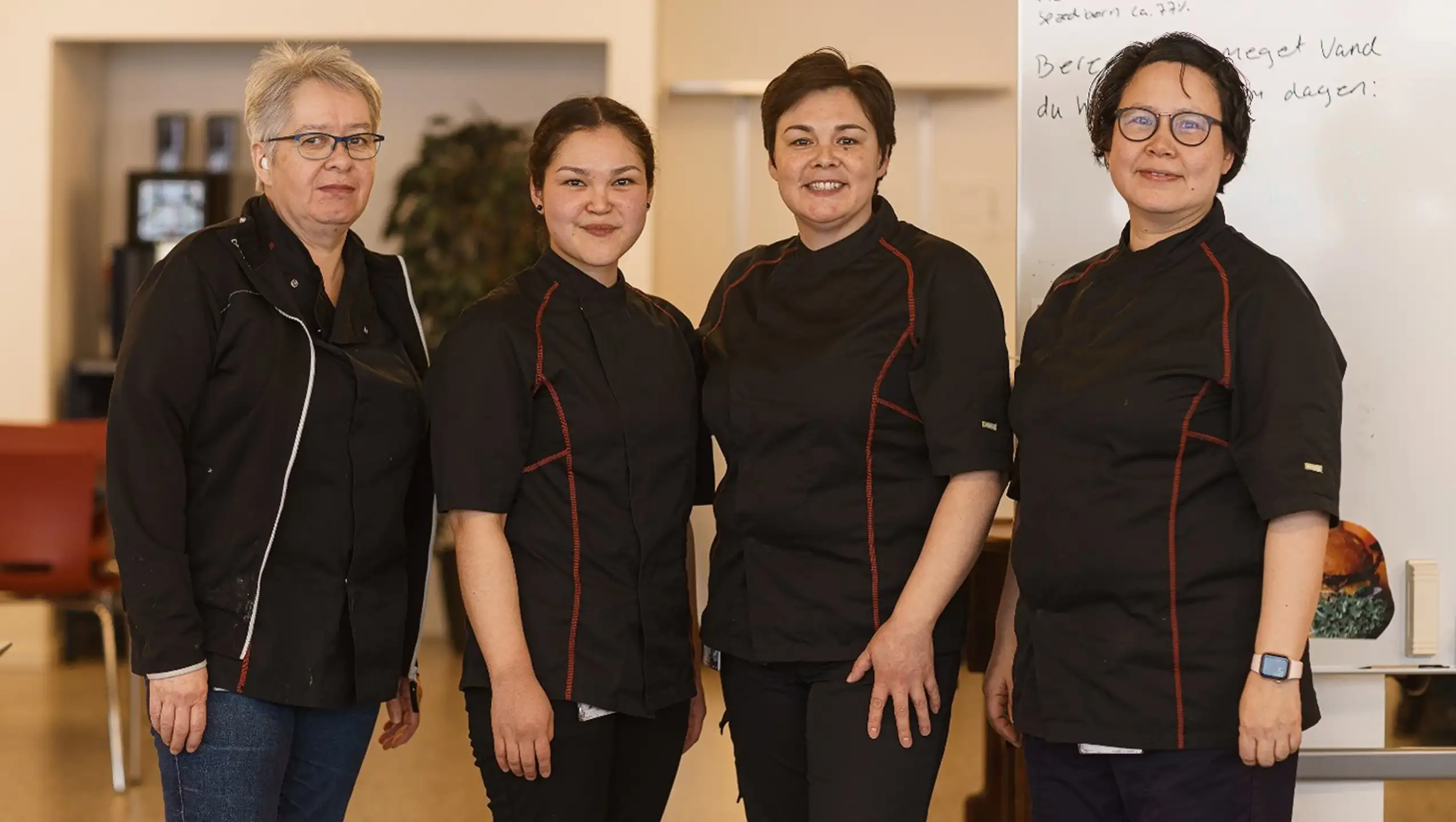 Education
---
The education lasts 2 years and 6 months and alternates between an internship in Air Greenland Nuuk and a school stay at Inuili Narsaq.
The education is structured in such a way that you start an education for gastronomic assistant, which is divided into basic courses in 2 periods of 10 weeks and main courses for 12 weeks, and go on to a caterer and canteen assistant education 3 weeks school period ends with apprenticeship test.
The education provides a basic knowledge of health, nutrition and cooking. You need to be able to put together menus and know something about beverages. You also need to learn how to serve customers. And then you have to learn to work in teams.
At school you are taught e.g. in: English, sales and service, innovation and entrepreneurship, nutrition, kitchen practice, arithmetic and calculation, product knowledge, work environment, product development, dietetics, creative plate serving, menu and beverages
Qualification and requirements for the education
---
To start the basic course, you must have fulfilled your teaching obligation. You have this when you have finished primary school or have received similar education
You must have at least E / 02 in average grade in Greenlandic, Danish and mathematics for the final exam in 10th grade or an equivalent exam
With this training, it is important that you can maintain an overview - even when it is busy.
Has a sense of hygiene and focuses on quality and details
Can work both independently and with others, is service-minded and creative
Application
---
The application deadline is 1 March and the education itself starts around 1 August.
Application form can be obtained by contacting majoriaq in the city you live in.
For more information, visit www.inuili.gl