Gastronomy
Some of the finest gourmet restaurants are found in Greenland. And the menus are all characterised by local ingredients.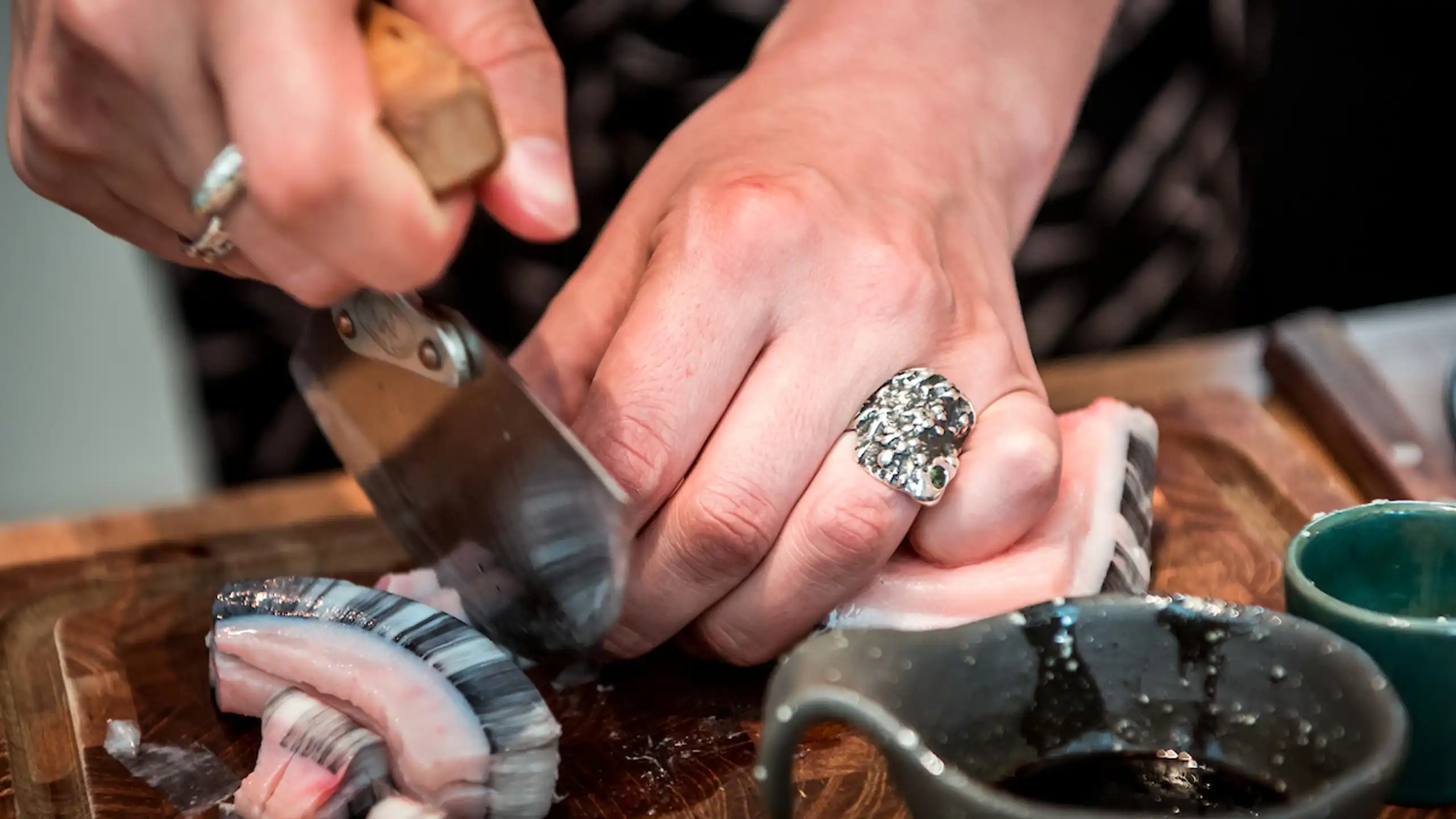 Photo Lola A. Åkerström
Gastronomy in a class of its own with local ingredients
Greenlandic gastronomy leaves nothing to be desired. The country has the finest ingredients and the Greenlandic kitchen is inspired by the world around us. Some of the world's finest gourmet restaurants are found in Ilulissat and Nuuk.
Meat, fish and game can be bought at the 'board' in towns and settlements. Buyers include both private individuals and restaurants, and this guarantees the freshest ingredients imaginable.
The restaurants combine Greenlandic raw ingredients with trends from French, Japanese and Thai cuisine. Vegetables and potatoes from the south of Greenland make a natural accompaniment to the dishes. During the summer the menus are characterised by mushrooms, berries and herbs found and picked in the countryside, which for several thousand years has produced a groundcover of vitamins and nutrition.
Generally speaking, Greenlandic food culture is based on the former hunter-gatherer society's strong sense of community. Living conditions depend on willingly sharing one's catch and exercising hospitality. And this still applies today.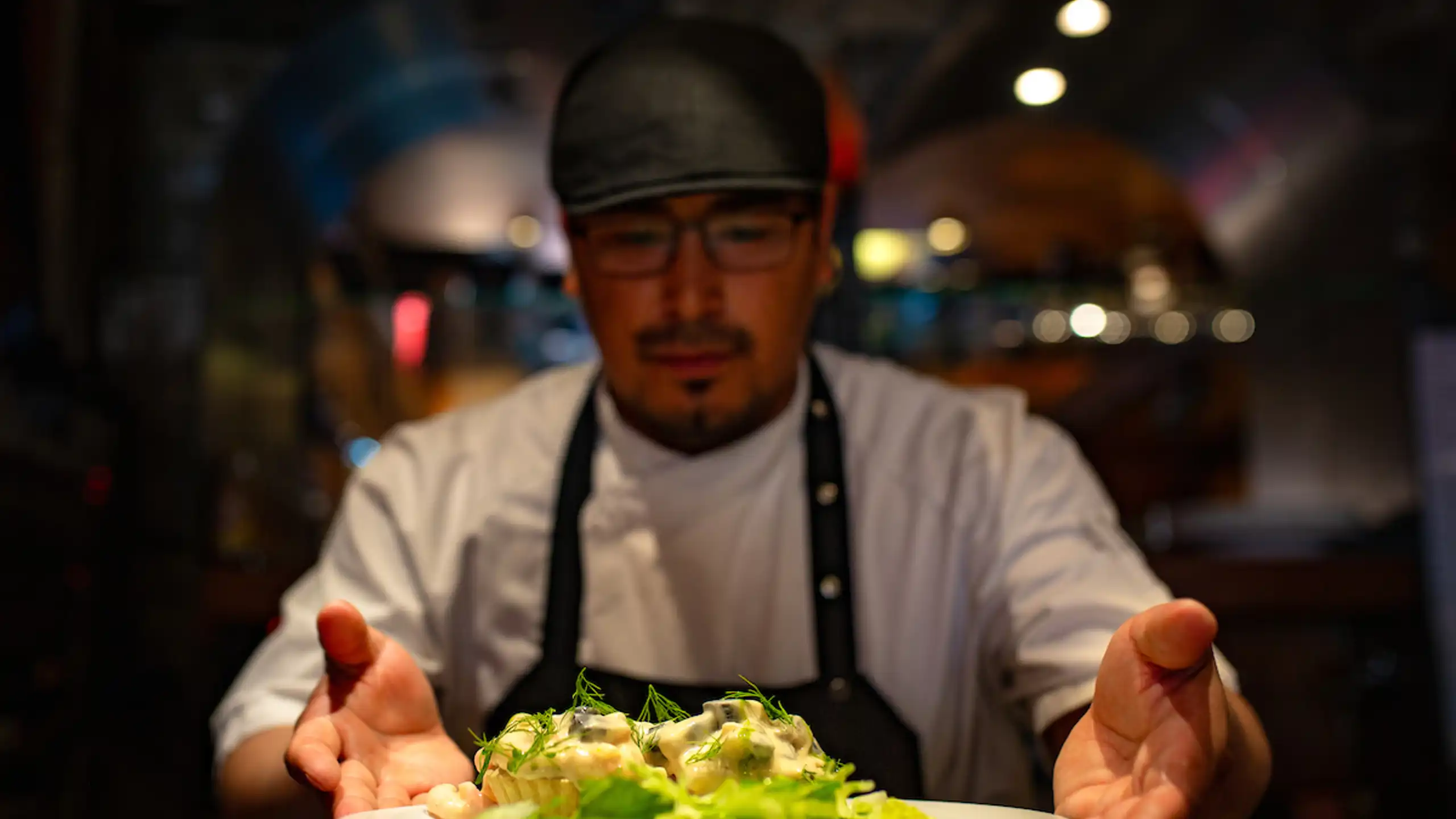 Photo Aningaaq R. Carlsen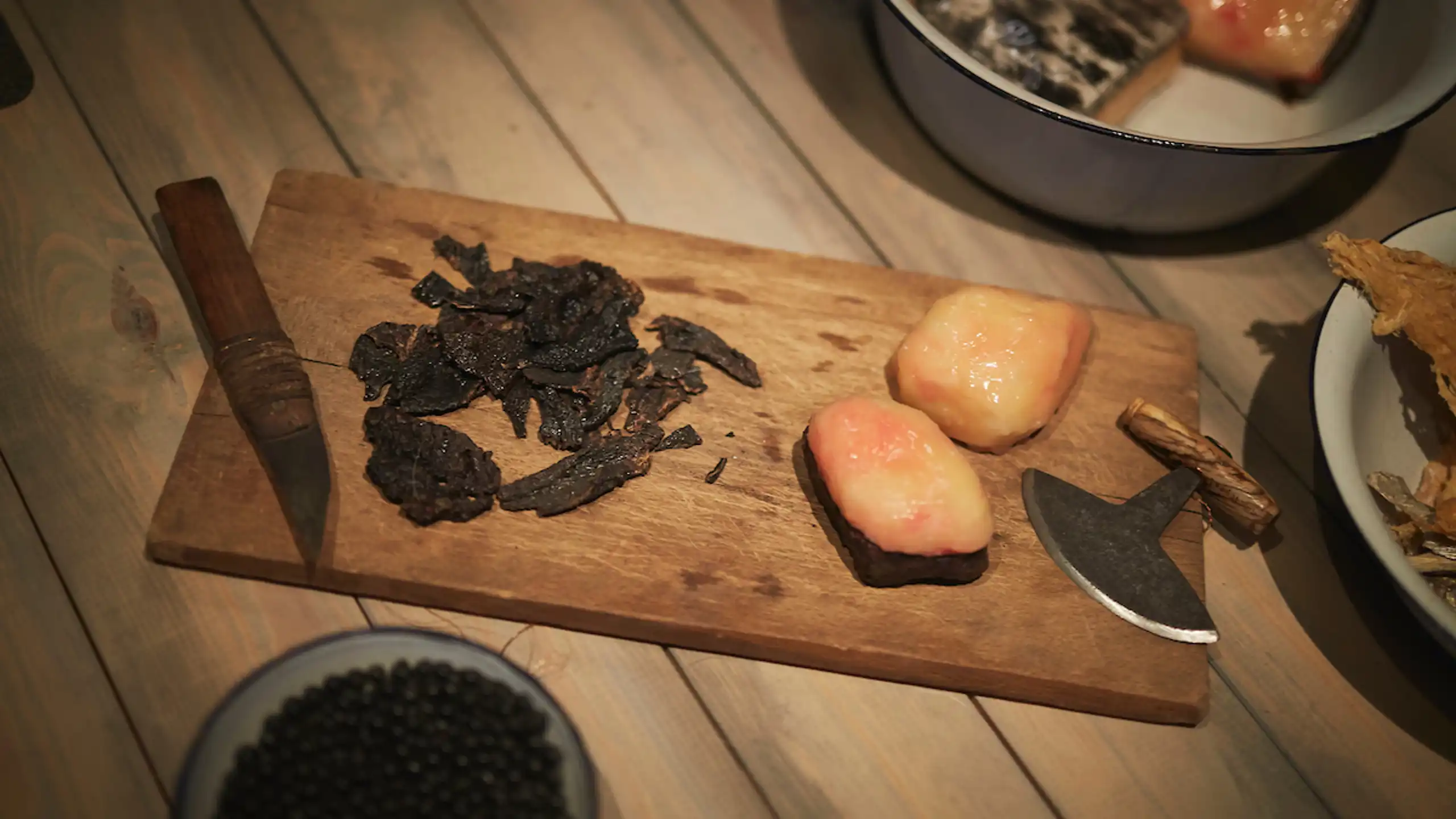 Photo Peter Lindstrom
Conjuring up culinary magic
In Ilulissat's gourmet kitchen at Hotel Arctic, Restaurant Ulo, the country's best chefs weave their magic with the finest ingredients. During the summer the huge barbecue on the hotel's terrace is a particular delight. Another warm recommendation with a culinary twist is a sailing trip to Rodebay and Restaurant H8. Restaurant Nasaasaaq is also outstanding and serves brunch and other specialities featuring musk ox, shellfish and birds.
Kangerlussuaq has no less than three restaurants in which travellers can satisfy their appetite. There are even more in the capital, where experienced gourmets can enjoy outstanding food, perhaps with a view of a plunging tail fin in the distance.
DID YOU KNOW?
---
Hotel Arctic has been awarded the 'New Nordic food' diploma.
Mattak is a Greenlandic delicacy made from the skin and blubber of whale, cut into small pieces and eaten with the fingers. There's no need to take a vitamin C supplement here! Healthy food and a particular challenge to chew.
Sushi made with seaweed, crab risotto, Greenland halibut, capelin and fresh lumpfish roe. Don't be surprised if you're offered these delicacies at Eqi Ice Camp or the Oqaatsut settlement in Disko Bay.
Nerisassat means food; something that can be eaten.
Beer is brewed at two places in Greenland: in Nuuk at Godthåb Bryghus and in Ilulissat at the new Immiaq brewery.
Greenland's 'national dish' is seal meat boiled with onions, rice and potatoes. Greenlanders have traditionally preferred to boil meat rather than fry it.
Book your experience here: