Museums and art
Paintings, tooth, stone and bone. Greenland's museums reflect the country's cultural heritage and disseminate it using modern forms of expression.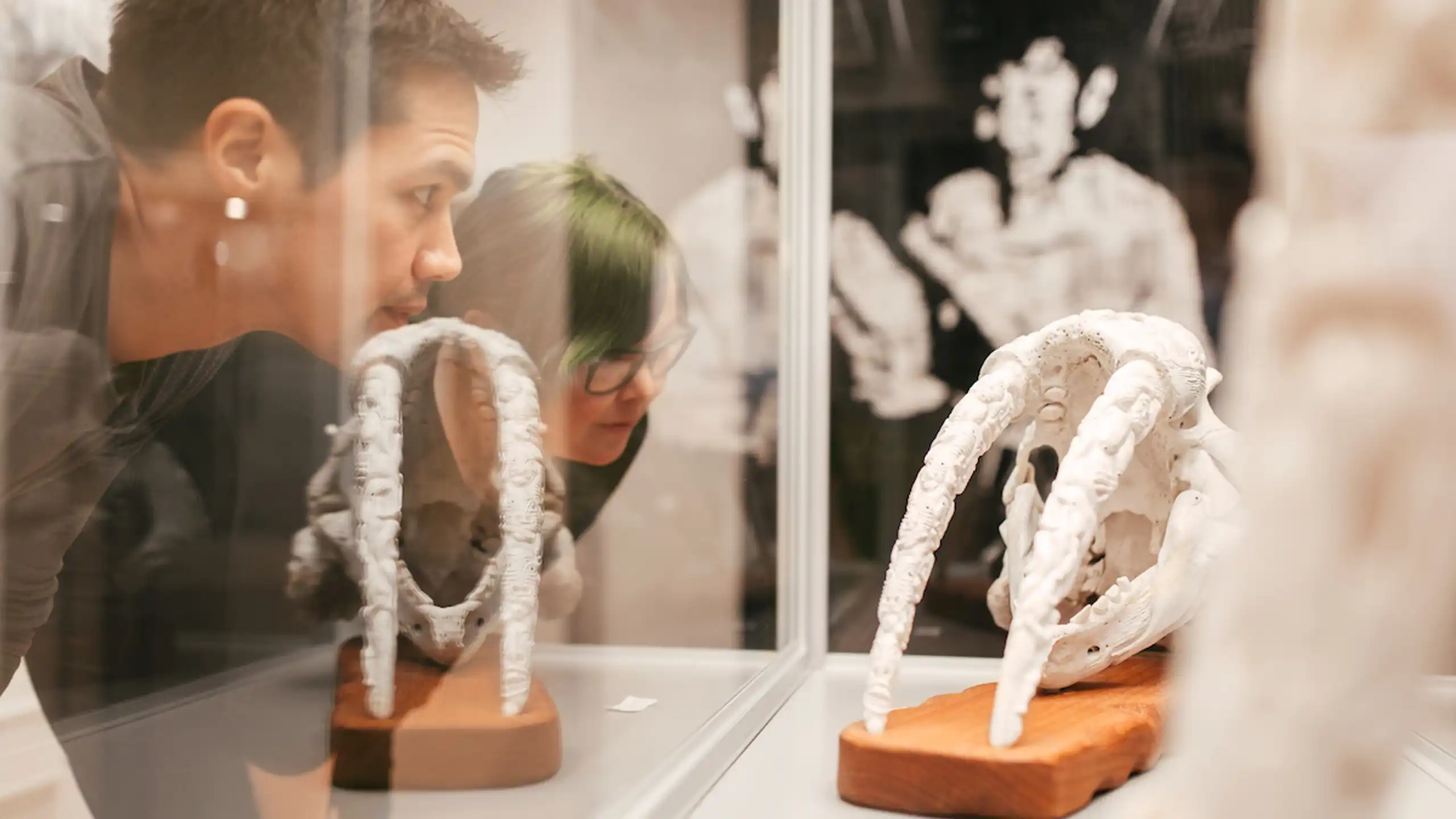 Photo Rebecca Gustafsson
Come, look, listen and touch
You get closer to history if you're on foot. Get close to Greenland's history and visit the local museum. Every town and settlement of any stature has the capacity to delve into the past. In several museums guests can try, touch and learn.
Art and history go hand in hand in Greenland. A number of museum artefacts are in themselves an expression of a type of art which is peculiar to Greenland. In Ilulissat, Sisimiut and Nuuk there are also art museums that focus on the country's culture and nature. Contemporary art in the form of art exhibitions, theatre and performances are in focus in the houses of culture found in a number of the towns.
Tupilaks in all shapes and sizes, umiak boats, kayaks, costumes and hunting gear are among the items that reflect the living conditions and culture of the Greenlanders. In Nanortalik, for example, you can find the world's oldest umiak boat dating from around 1140. It was found by Arctic explorer and artist Eigil Knuth in North Greenland in 1948.
In Ilulissat there are two museums. One of them is an art museum which contains more than 100 paintings by Greenland's most well-known artist, Emanuel A. Petersen. The other notable museum is Knud Rasmussen's birthplace. Nuuk's museums are also well worth a visit. Greenland's National Museum and Archives house, among other things, the famous Arctic mummies, and the art museum has more than 3000 pictures and 400 figures made in tooth, wood and soapstone.
DID YOU KNOW?
---
In Ilulissat WOG exhibits arts and crafts by local artists. The works are made from materials such as seal claws, reindeer antlers, musk ox horn and soapstone. Each describes the traditions and history associated with them.
Products made from beluga whale, walrus and minke whale require an export licence – a so-called CITES permit, which must be submitted on purchase.
Adjacent to several of the museums are the special peat houses that remained in use as Greenlanders' homes right up until the mid-1950s.
Online bookshop Atuagkat has books about Greenlandic art.
Qasigiannguit is the home of Greenland's oldest house, from 1734, which now functions as the town's museum. Qasigiannguit also boasts a living museum in thee summer months with people showing the old ways.
Book your experience here: