Sailing
Embark, disembark, head ashore, then embark once more! But never miss out on the chance to take a sailing trip through the magnificent landscape that's sure to sweep you off your feet.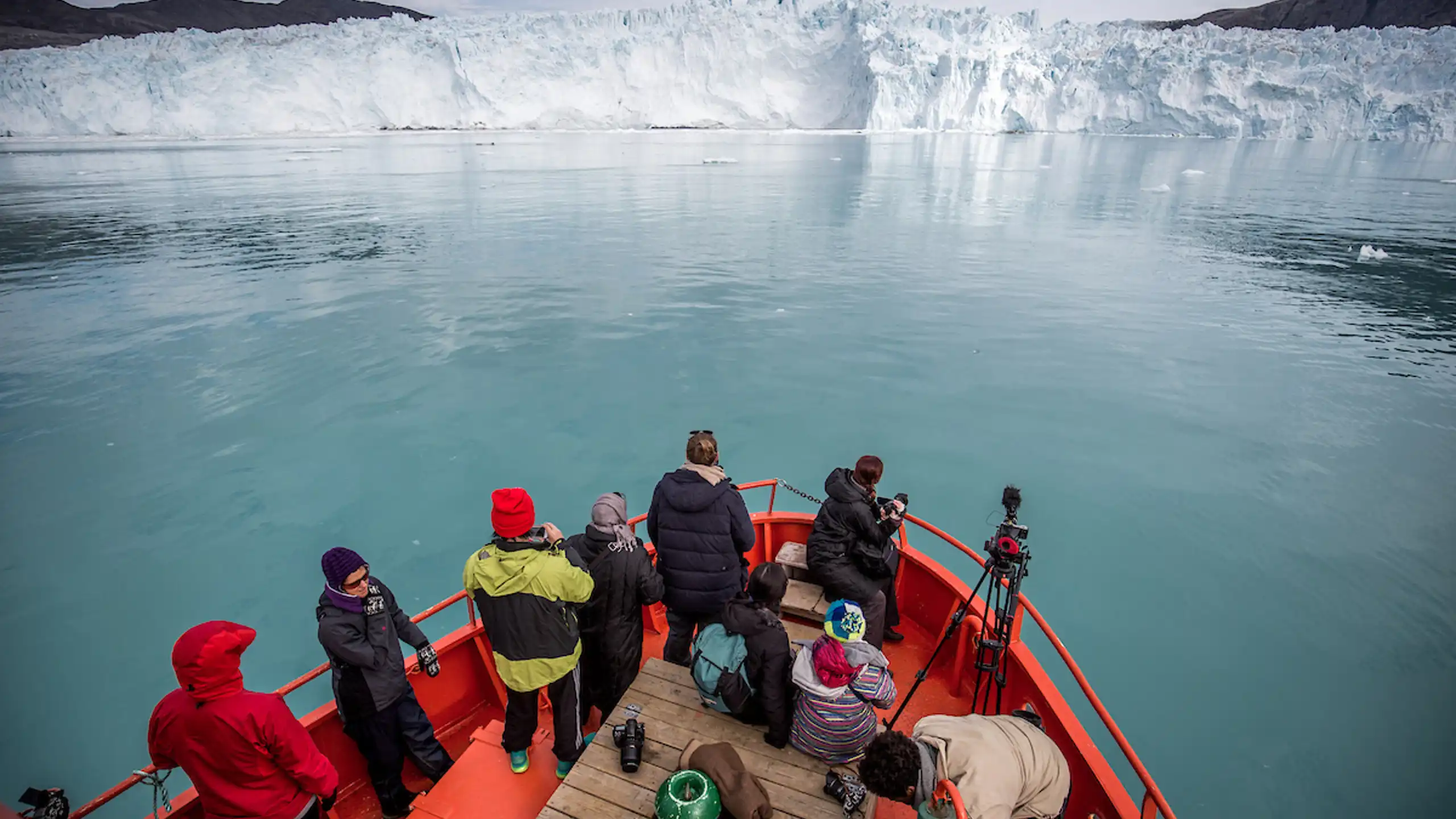 Photo Mads Pihl
Greenland from the sea
Time stands still onboard Sarfaq Ittuk, which transports passengers and goods from South Greenland to Disko Bay – and back again. Disembark at the popular locations and towns and see the Ice Sheet at Kangerlussuaq, the capital Nuuk, and Ilulissat with the protected and world-famous Icefjord. Take time to go sightseeing on your own or join a guided tour. Your sailing trip can also be combined with accommodation at a luxury hotel in Ilulissat and Sisimiut.
The sea has always been an important part of Greenland's infrastructure. Today there are sailing trips along the coast that take you to the blue-white glacial tongues, black-green rocks, majestic icebergs, cosy settlements and magnificent fells.
Being the world's largest island is no small matter, and the 'highway' surrounds the entire country. There are no tarmac roads between the towns; all traffic is by boat, ferry or plane.
International cruise ships have Greenland in their sights – and in their travel itineraries. An increasing number are calling at Greenland. Exclusive cruises take place on M/S Fram, which crosses the sea between Iceland and Greenland, starting and finishing in Greenland of course.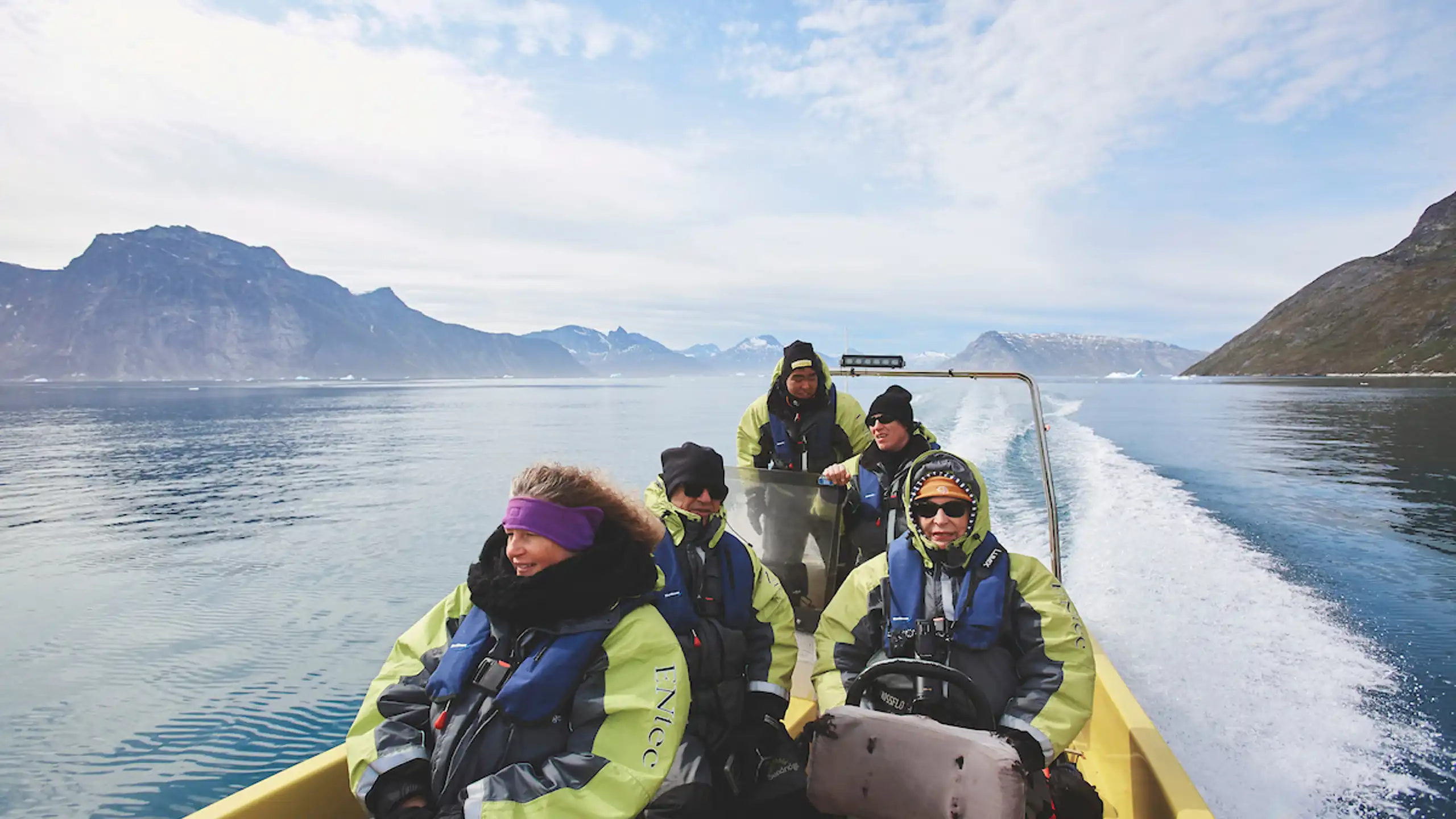 Photo Peter Lindstrom
Photo Mads Pihl
See the glacier calve
Many visitors go to Ilulissat and here you shouldn't miss The Eqi glacier – Eqi Sermia – that runs out into the icy waters 70 km north of Ilulissat. It's possible to get out to the edge by boat and experience the glacier calving huge pieces of ice. You quickly realise how small and humble you really are and end up completely spellbound as the ice creaks and crashes as an accompaniment to this wide-screen scene just a short distance away. Stay overnight at Glacier Lodge Eqi, which lies 400 metres up in the fell and offers fantastic views.
If you don't have that many days available, we recommend a helicopter flight to Eqi Sermia. Whatever else you do, make sure you experience the glacier!
Sail out for lunch
If you are staying in a city for a few days, you should treat yourself to a sailing trip of shorter or longer duration. A trip between the icebergs at Ilulissat, out to the small village of Rodebay, Oqaatsut, where you can enjoy a fantastic meal in restaurant H8.
DID YOU KNOW?
---
Greenland covers 2,166,086 square kilometres.
The country is 2,670 km long and 1,050 km at the widest point.
World of Greenland organises sailing trips to glaciers, whale safaris or just trips out on the water.
Greenland Travel offers holidays which include sailing along the coast during the spring and summer onboard 'Sarfaq Ittuk'. As a guest onboard, you'll experience all the diverse ingredients that make up a holiday in Greenland.
Arctic Umiaq Line sails scheduled ferry services from Ilulissat in the north to Qaqortoq in South Greenland.
Book your experience here: