Kayaking in Greenland
Kayaking in Greenland is for experienced rowers who enjoy the silent movement in waters with white mountains as a backdrop.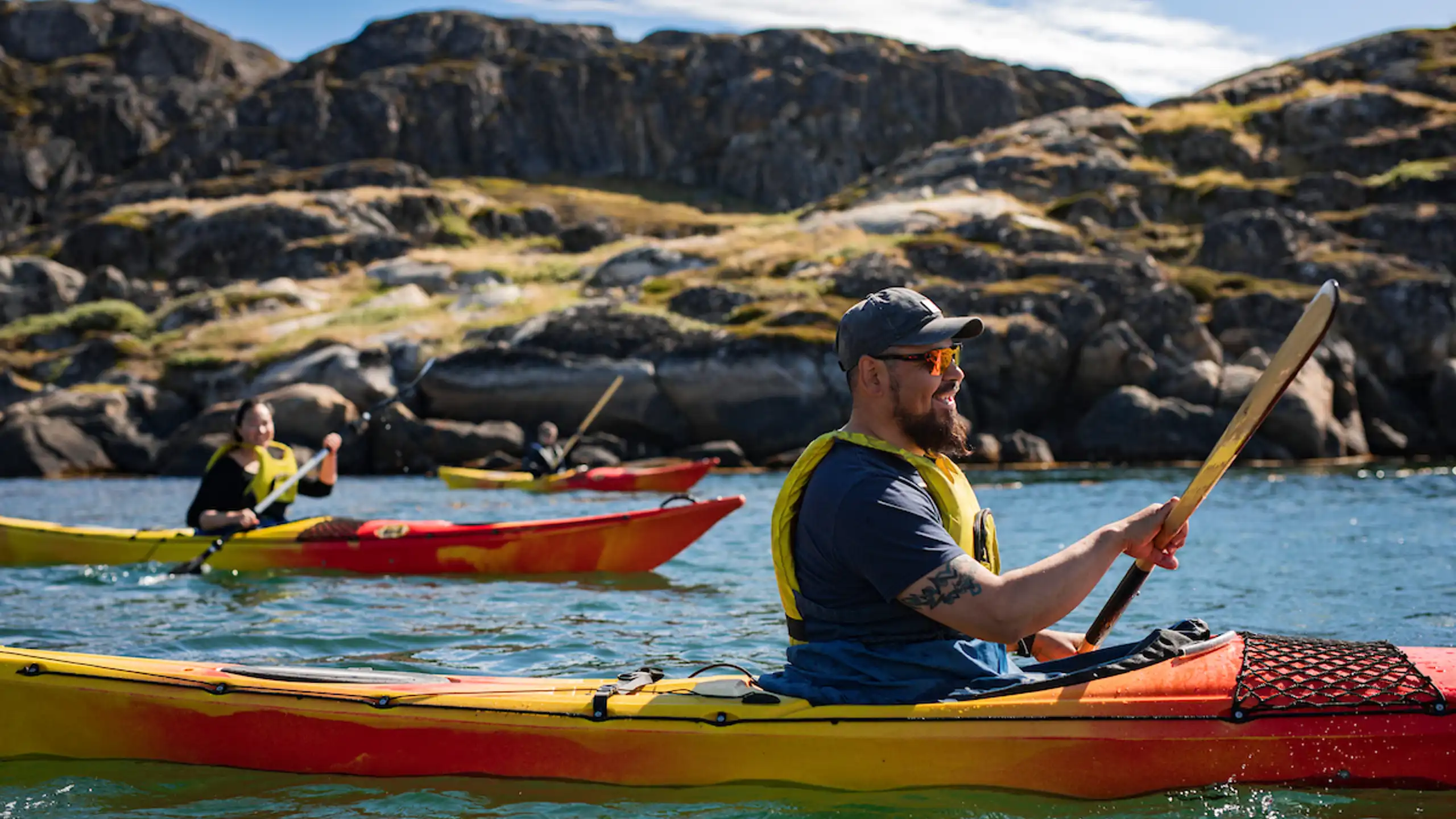 Photo Aningaaq R. Carlsen
Kayaking in Greenland
Adventurous and active guests can take advantage of the most adventurous form of kayaking. The framework for kayaking in Greenland is unique. Let the kayak merge with the sea surface and let the sound of silence propagate in your body. Enjoy the icebergs, which get a magnificent play of colors with the intervention of the sun.
Kayaking and kayaking are widespread throughout Greenland, and it is an activity you can go out in almost no matter where in Greenland you are. You can find kayak providers in all regions of Greenland, regardless of whether you are in North, South, East or West Greenland. Kayaking gives you the opportunity to experience scenic icebergs and fjords as far as the eye can see.
When you row a kayak trip in Greenland, you glide calmly through the water and enjoy a great view.
Kayaking can take place both in the country's many fjords, but also along the coasts of cities, where the kayak is most often used as a means of transport between Greenland's many settlements.
Captors in the north use the kayak when harpooning seals in the clear water. Not for a second is the kayak out of balance when the animal is slaughtered. The Greenlanders have embedded the language and resilience of the kayak through thousands of years of use of the silent means of transport.
In North Greenland and the Thule district, kayaking is still hunted - even for narwhals. The Greenlandic archipelago is obvious as waters when the trained kayaker is to kayak in Greenland. In some cities you can buy detailed maps with recommended routes and marking of tent sites, so you can go out and kayak in Greenland on your own.
The local tourist offices in Greenland help you with kayak rental for shorter or longer trips. Some agencies specialize in kayak trips lasting several weeks. Then you will not get closer to whales and seals. In summer even with the sun in the sky up to 24 hours a day.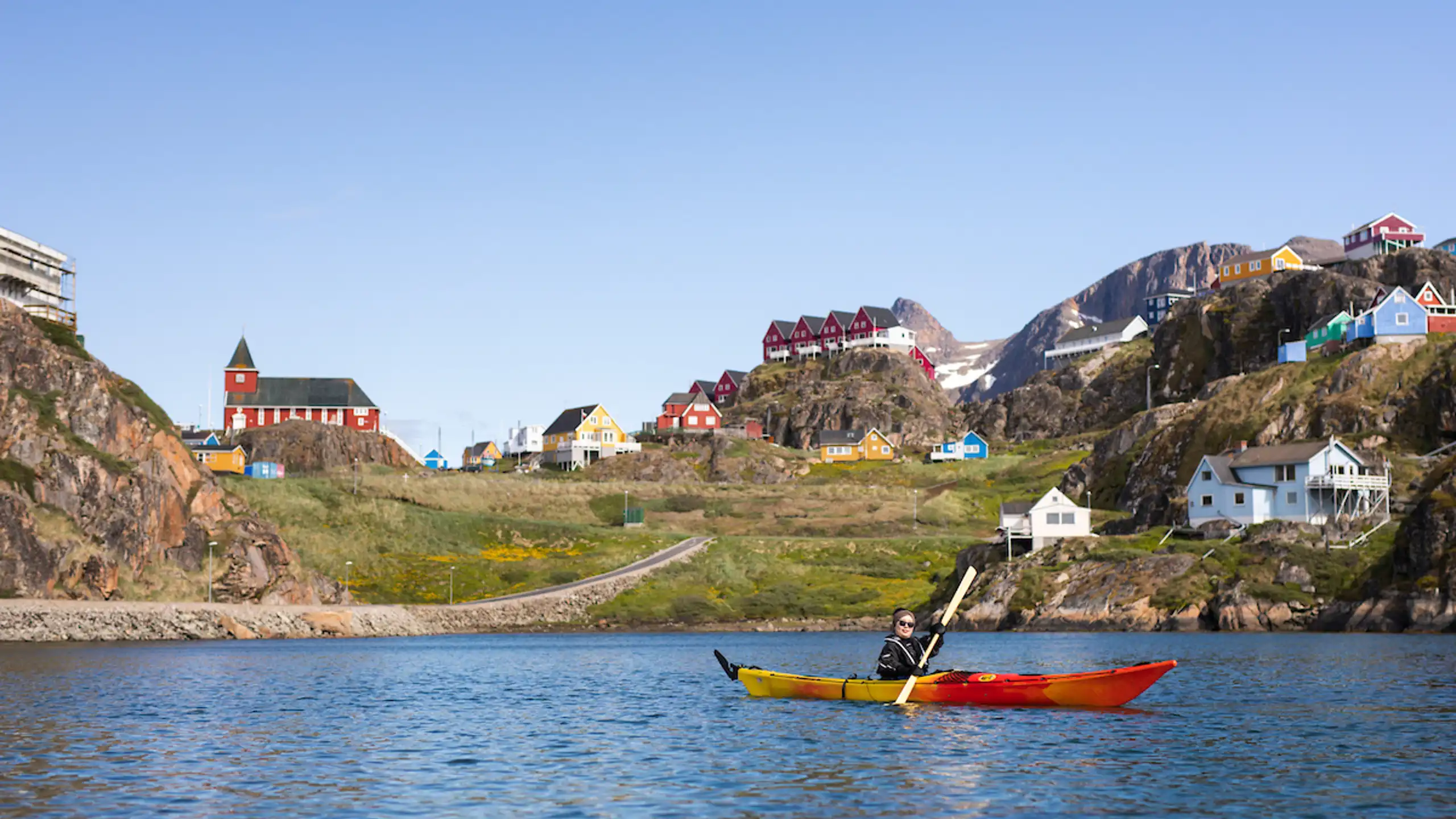 Photo Aningaaq R. Carlsen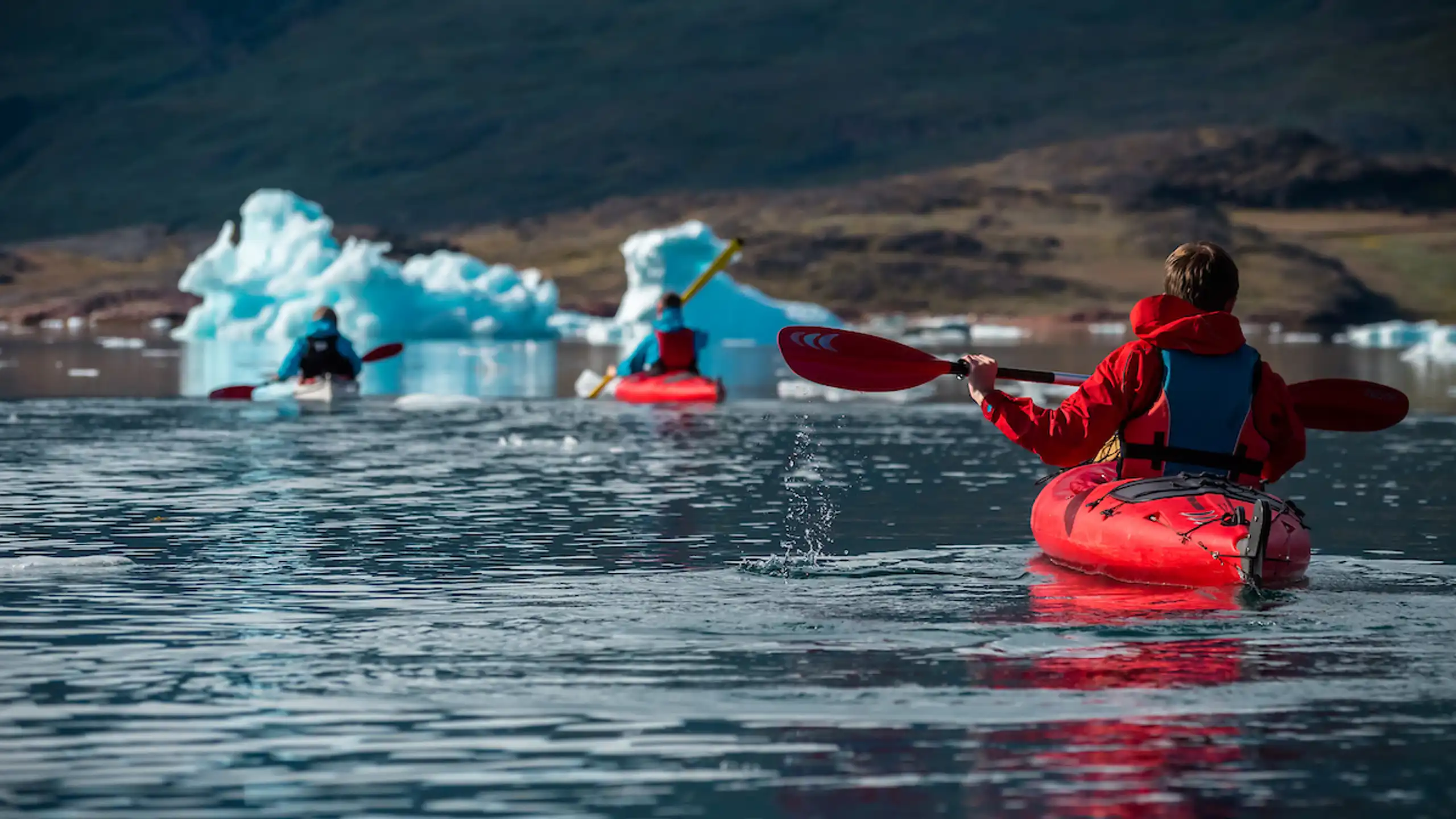 Photo Stacy W. Head
Sea kayaking in Greenland
Sea kayak is a term for a kayak that is designed for touring, where there is room for packing in separate waterproof spaces. The kayak is usually very slim and elegant, and you paddle with a paddle, which is a two-part Greenlandic paddle.
Row silently through the water and experience Greenland's fantastic natural landscape at sea. With a little luck, you may be able to spot some whales that, with their blowing in the air, replace the silence.
Kayaking is the perfect way to look at Greenland's natural landscape at sea.
Qajaq
Qajaq means kayak in Greenlandic, and the kayak came to Greenland with the first wave of immigrants over 4,000 years ago. The kayak has since been a fixed element and a central part of the Greenlanders' everyday life and fishing culture.
Today, the kayak is used primarily as a transportation and fishing tool in the country. The classic Greenlandic kayak is mostly used in the northern parts of Greenland, whereas sea kayaks are used on both short and long kayak trips along the coast throughout Greenland.
Remember safety when kayaking in Greenland
Kayaking in Greenland is not for beginners, and it is always important that safety is top notch when you go kayaking. If you have not tried kayaking before, it is therefore not in Greenland that you should try it for the first time. The nature is harsh and raw, and it takes a lot of experience to kayak here. If you do not have enough experience to kayak in Greenland, you can fortunately experience Greenland at sea in other ways.
If you are an experienced kayaker, you can, on the other hand, go kayaking in the beautiful nature of Greenland. When you glide silently through the water, you experience nature up close, in a different way than otherwise. In addition, you are part of the ancient cultural tradition, that is, kayaking in Greenland.
Even for an experienced kayaker, it is important to remember to take the right safety precautions when sailing a kayak in Greenland. The nature is harsh and the conditions are some other than you are used to from home.
DID YOU KNOW?
---
The word kayak is a derivative of Qajaq.
Kayaking in Greenland is not for novices.
The skerries at Aasiaat are ideal for kayaking. Towns in South Greenland also offer sea kayaking with various levels of difficulty.
The original kayak frame was bound together by driftwood and covered with plucked, greased sealskin. Today kayaks are made of plastic or fibre glass.
Book your experience here: