Souvenir shopping
Today's most outstanding designers are behind innovative creations and are rewriting the history of Greenland.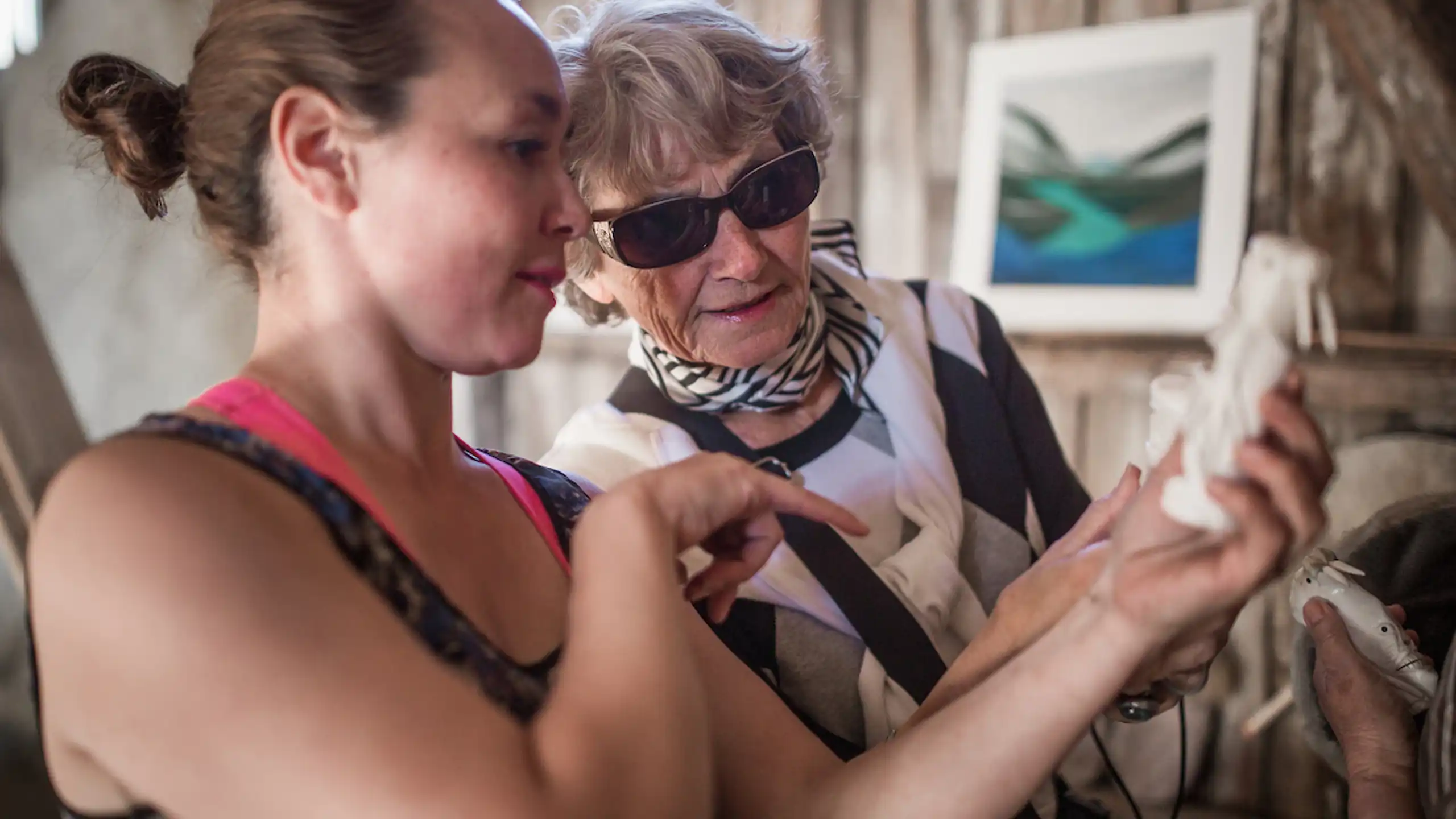 Photo Mads Pihl
Trends and shopping in history
Jewellery, animal skins and handicrafts produced from Greenlandic materials still provide excellent insight into a proud and ancient culture. Nothing is wasted, and skin, stones and horn are used to create unique items.
The majority of local tourist offices have fine exhibitions and sell products produced by local craftsmen. It's fantastic to see the care that goes into making the products today and it's clear to see the old culture's craftsmanship being incorporated into all materials.
Tupilaks are a well-known and popular souvenir which many travellers to Greenland take home with them.
Tupilak means an ancestor's soul or spirit, and was earlier used to ward off an enemy if he came too close. Today we believe that we know better, and now the figures carved in tooth, bone or stone are simply a memento of Greenland and the country's culture.
Outstanding processing of animal skins
Greenland is well-known for its outstanding processing of animal skins. Over the years, well-known designers from home and abroad have created clothing and industrial design in animal skin with respect for animals, people and the passage of history.
Great Greenland has been a processor of sealskins since 1977 which is located in Qaqortoq, in South Greenland. In addition to a sourviner shop, they also offer a tour of the facility, where they talk about sealskin and how they process it before becoming a fantastic souviner. Other Greenlandic skins are also processed, such as musk ox, and lamb.
In the major towns the shops have a wide choice of brands. Greenland is to a great extent a centre of modern life. The needs and wishes of consumers decide what's available just like anywhere else in the world. And your search for the right item won't be in vain – especially when it comes to warm clothes!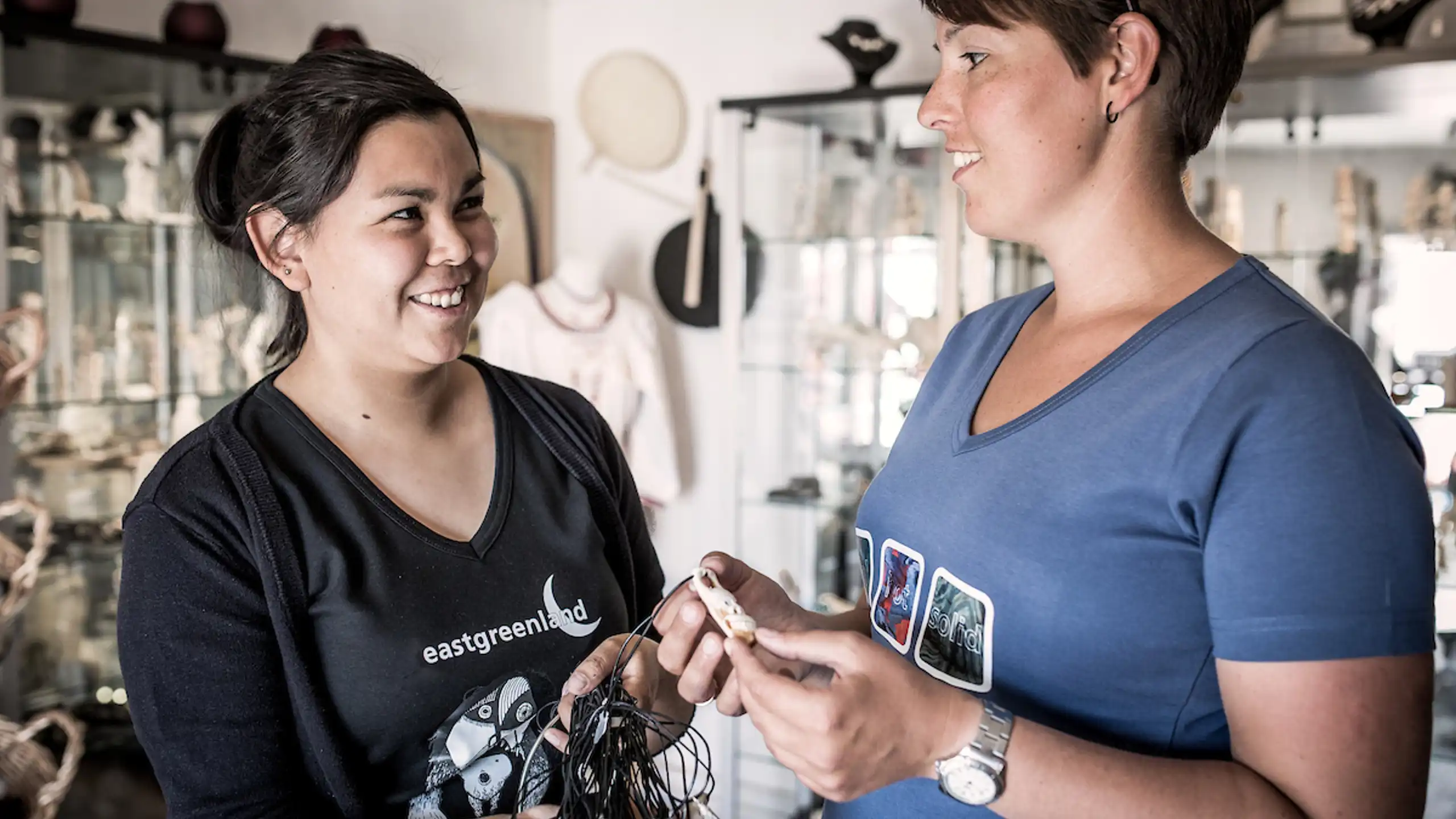 Photo Mads Pihl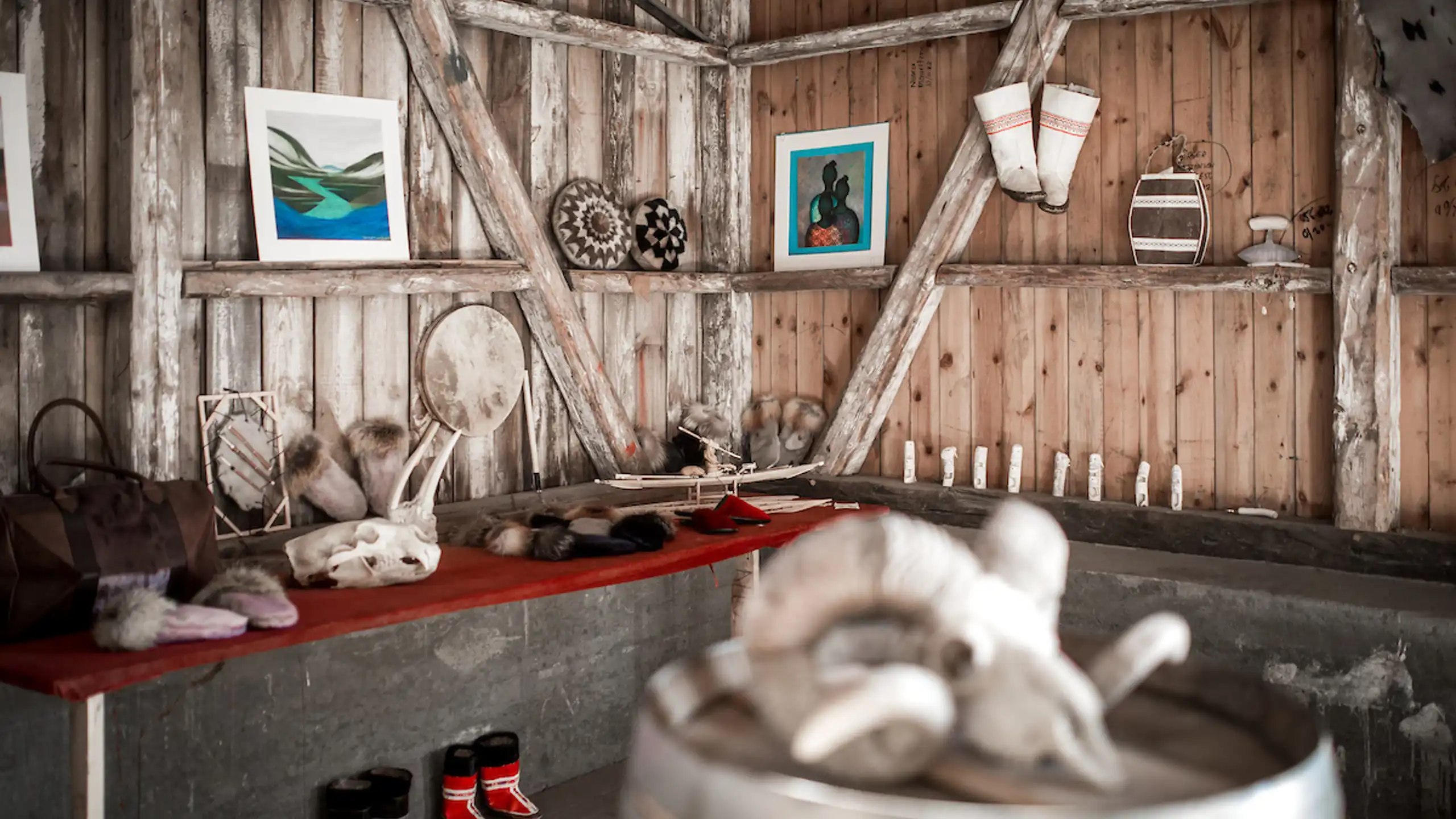 Photo Mads Pihl
Souvenirs are mementos
Jewellery, clothes, animal skin products, arts and crafts – a little piece of Greenland produced from nature's materials. There are good chances of bringing a tangible memento home with you from Greenland. Prior to departing for Greenland – and during your trip itself – it can be a good idea to study the choice of Greenlandic souvenirs in the Suluk in-flight magazine.
DID YOU KNOW?
---
n Greenland animals have always been killed for their meat. Greenlandic sealskin is also exempt from EU's ban on sealskin, so you can shop with a clear conscience.
Wool from musk oxen has become a popular element in knitted hats, gloves and scarves. The wool has a reputation for being the warmest in the world.
Isaksen Design was responsible for Great Greenland's 2012 series in black and white and red: black for the spirit world, white for the bones of ancestors and red for the blood of life.
Else Lennert combines sealskin with other materials.
Bibi Chemnitz mixes Greenlandic traditions and motifs with Scandinavian city life. Bibi Chemnitz's creations can also be found in retail outlets in cities as diverse as Tokyo, Hong Kong and Berlin.