Angling in Greenland
Do rods, spinners and fish in all shapes and sizes have you hooked? Fishing is a pastime that can be enjoyed at any time of the year by people who love the challenge of rivers and lakes.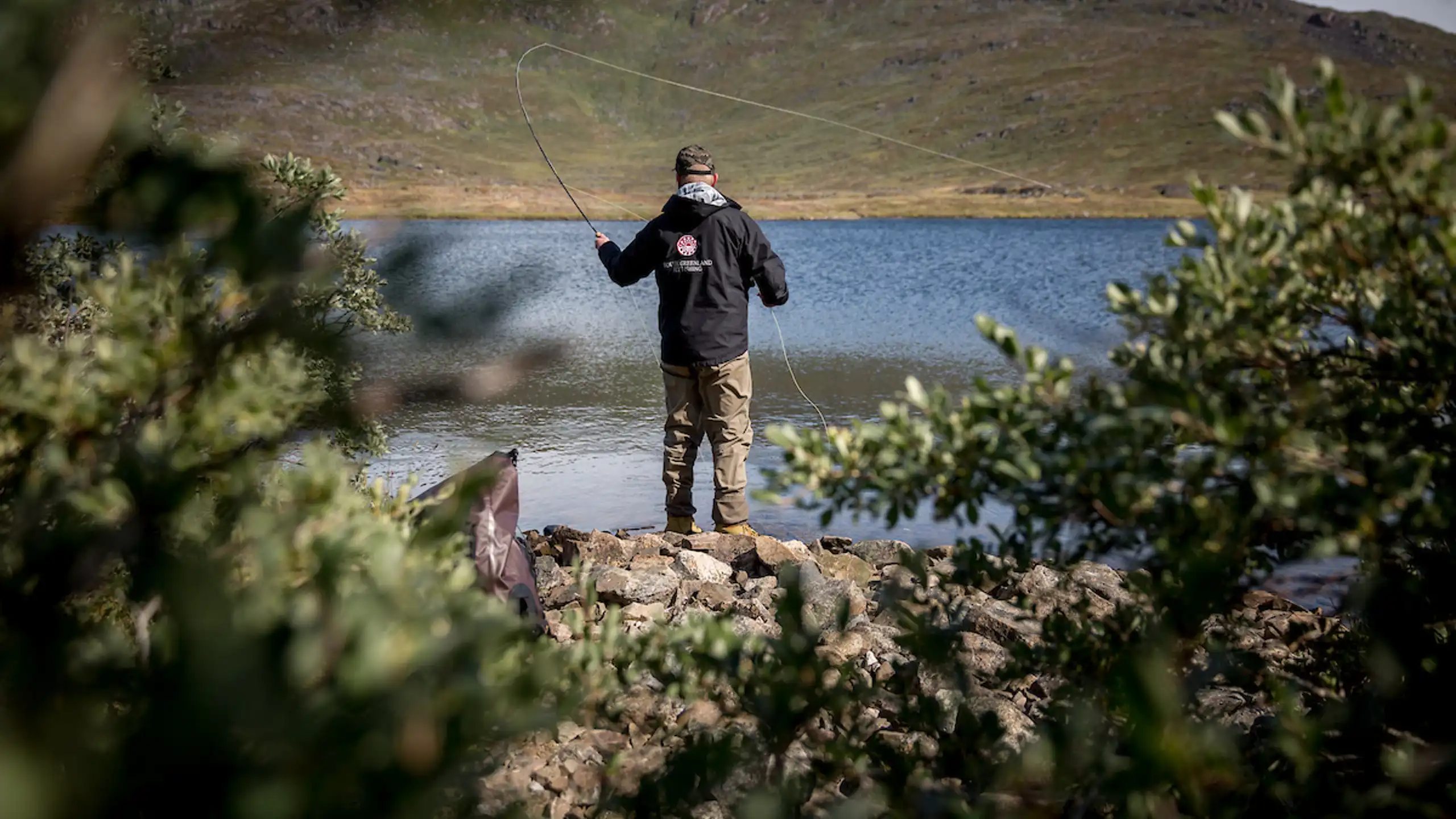 Photo Mads Pihl
Trout fishing in Greenland
Greenland's trout fishing is for you who want a wilderness experience in a secluded mountain valley with pristine rivers. Throughout the summer, you have the opportunity to get a bold and beautiful mountain trout on the hook. In June, the fish from rivers and lakes gradually migrate to the fjords to eat their fill before returning during August. At the coasts you need spinners and tins, in the rivers spinners and flies.
Trout fishing in West Greenland
If you visit Sisimiut, Maniitsoq or Kangerlussuaq, you have ample opportunity for angling in pristine rivers, where there are often no more than 6 to 12 fishermen at a time. The fishing destinations are wilderness experiences that can be reached by helicopter or boat.
Fishing in South Greenland
If you visit South Greenland, you are guaranteed a lot of mountain trout. With rivers rich in mountain trout, South Greenland has become known as Greenland's pantry. At Eriksfjord you will find from mid-July to September the optimal conditions for fly fishing and spin fishing.
Angling for trout
In general, one can say that the trout are right where there is most food. Where the water is deep enough to cover the dorsal fins and where the water is relatively stagnant. Between islands, at river basins and estuaries in small coves and bays, the trout are sheltered from the current and almost waiting to be teased by you.
Fly fishing for mountain trout in Greenland
Do you want to try your hand at fly fishing? Then there is plenty of opportunity for that in Greenland! The rivers in Greenland are most often pristine and have crystal clear water that makes sight fishing possible. As with angling, fly fishing is a short but exciting season that stretches over the summer months in Greenland. A fly fishing trip can extend over several days, but can also just be a day trip if you wish.
What is sight fishing?
Sight fishing is simply fishing for visible fish. There is a very special excitement about sight fishing, as you almost have to sneak into the fish with your fly. What makes sight fishing both challenging and exciting is the fact that you can see the fish, but it can also see you, so you have to be a calm and skilled angler to practice sight fishing.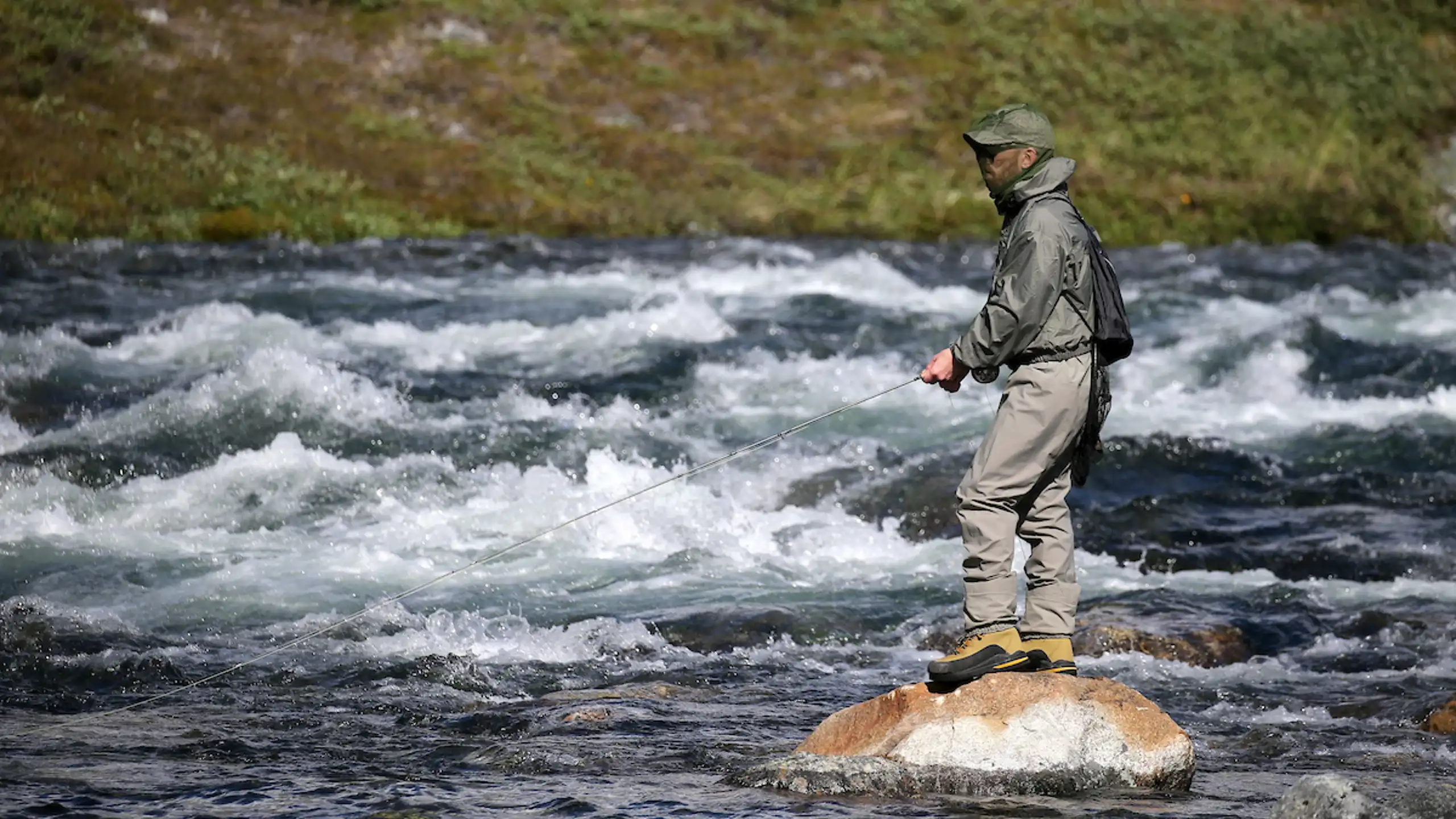 Photo Crispin Rodwell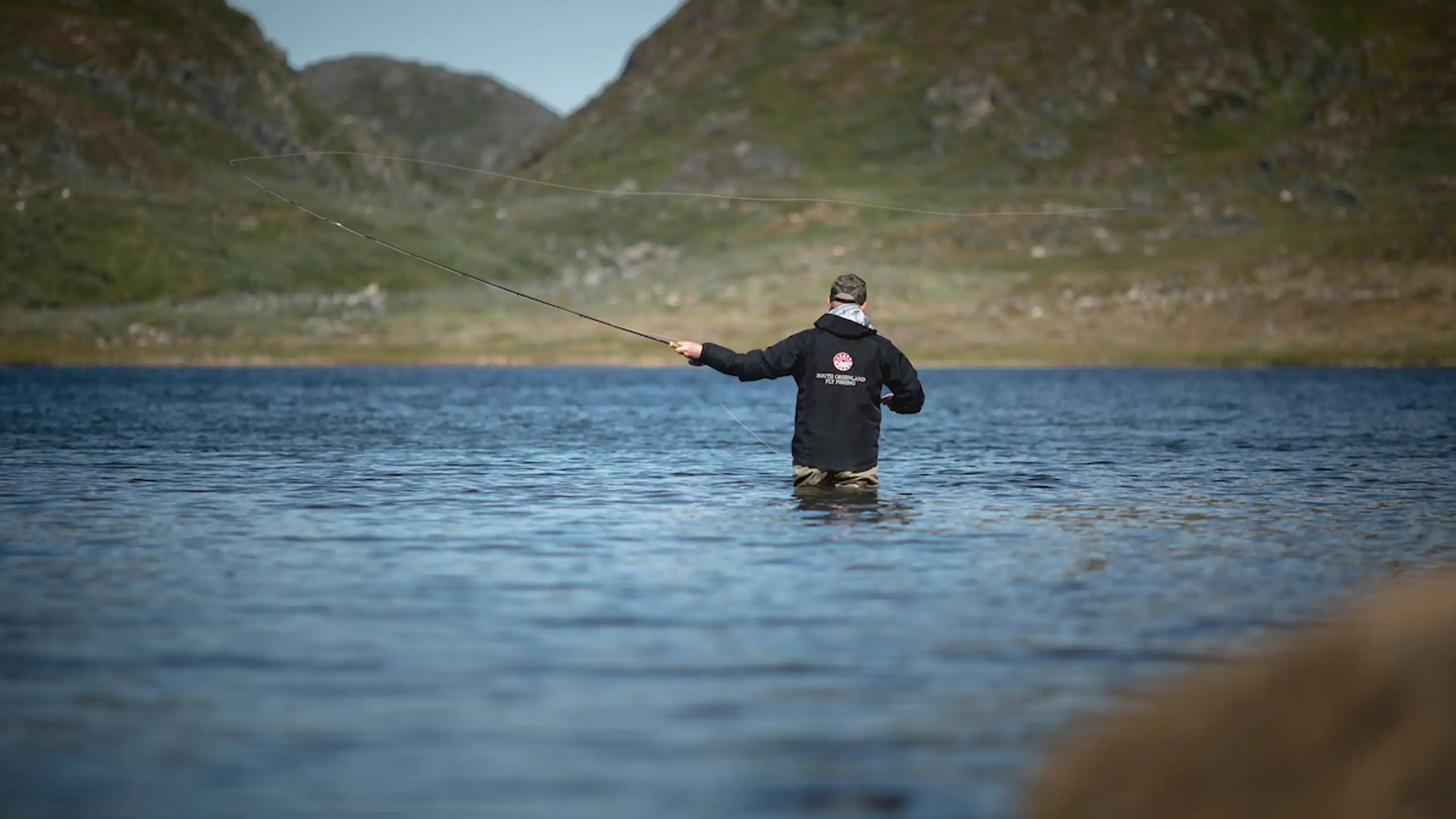 Photo Mads Pihl
In deep water in Greenland
The seas are teeming with fish. Go onboard a boat, head out to sea where the water reaches depths of 100-300 metres, and experience the indescribable feeling as flounder, Greenland halibut, redfish and Atlantic wolf-fish are pulled in over the railings. The redfish in Greenlandic waters is a real whopper. It can be up to 1 metre in length and weigh up to 15 kg. They're often found in shoals, so once you've caught one, there'll usually be others out there.
Ice fishing in Greenland
When the temperature moves below freezing and the water crystallizes into a thick layer of ice, Greenland's fjords become an ice adventure ideal for ice fishing. Ice fishing is a very special experience when you - or the Greenlandic fisherman - pull halibut up from the deep sea under the ice. Go fishing with a local out and try fishing with thick ice. Ice fishing in Greenland is possible from January to April, it is important that you have the right equipment and warm clothes, as it can quickly become a cold pleasure in the Greenlandic winter months.
The tradition behind ice fishing
Ice fishing is one of the oldest traditions in Greenland and has since the dawn of time been an essential part of the Greenlanders' lifestyle. Going ice fishing in Greenland is a unique opportunity for you who want to experience traditional Greenlandic culture and at the same time catch a fish or ten. North Greenland in particular is optimal for ice fishing. Along the west coast from Qaanaaq to Uummannaq, Ilulissat, Sisimiut, Kangerlussuaq and all the way to Nuuk, and in East Greenland you have from January to April the opportunity to try your hand at ice fishing. Each destination tackles ice fishing in its own way, and there is therefore a sea of ​​unique experiences waiting for you.
DID YOU KNOW?
---
Cook the fish in the authentic Greenlandic way: smoke it with heather or cook it in a pot over a fire. Serve on a stone and eat with your fingers.
Angling in Greenland is possible all year round.
Our partner World Of Greenland - Arctic Circle (WOGAC) organises fishing trips to suit your needs, including ice-fishing in Kangerlussuaq and Ilulissat.
Fishing licences are available at the local post office or travel agency.
Fishing rules in Greenland
To fish in Greenland, you must have a fishing license. A fishing license is most easily obtained at post offices, where you simply fill in a sheet that then serves as your fishing license. The price is:
DKK 75 for a 24-hour fishing license
DKK 200 for a 7-day fishing license
DKK 500 for a month's fishing license.
Does angling, fly fishing or ice fishing in Greenland sound like something for you? Book your trip to Greenland here.
Book your experience here: