Hiking in Greenland
It's a short distance from towns and settlements to open expanses with lakes, fells and the sea. Remember your map and compass or let yourself be guided by an experienced pathfinder.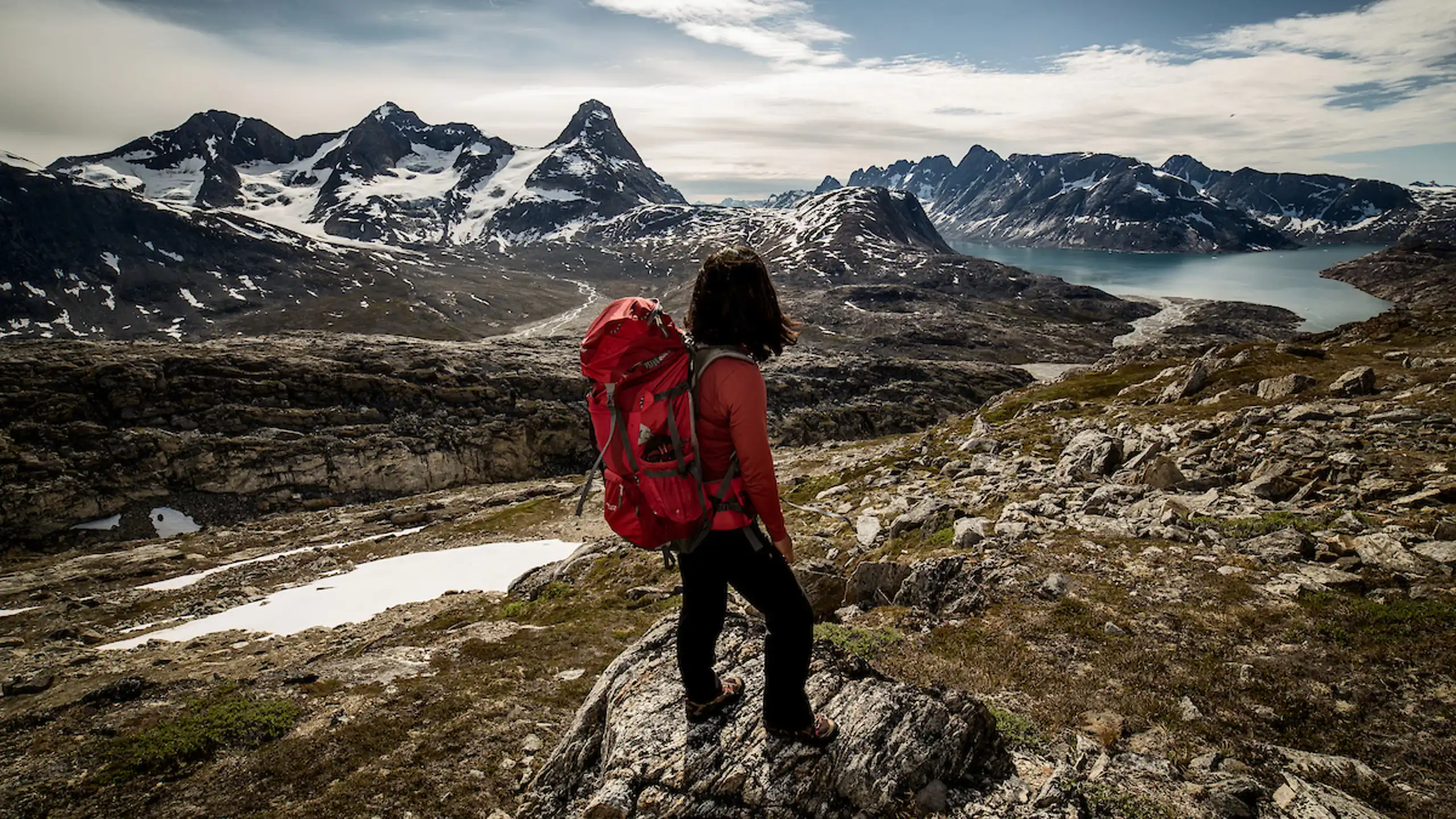 Photo Mads Pihl
Hiking in Greenland - a holiday for trail finders
In less than ten minutes you are out in the open countryside with your back to the city when you hike in Greenland. Magnificent adventures lie at your feet. We've no qualms about using the words magnificent, unrivalled and unspoilt, because that's the way it is. Great expanses, green oases, small flowers, ice, modest and challenging ascents. What more could you wish for? Make sure you know how to use a map and compass. Pick up a hiking map from the local tourist office, find your own rhythm and enjoy the flora, fauna, history and geology.
Hiking in Kangerlussuaq
A destination for a one-day trip could be to walk from Kangerlussuaq up to the Tacan mountain south of the town, from where there's a magical view. From here the trip takes in the lake of Store Saltsø and the fells in the landscape. After a couple of hours you'll reach Garnet Rock, where with hammer and chisel you can begin your hunt – not for animals, but for semi-precious stones. With your pockets full of stones, the return trip passes along the banks of Lake Ferguson, and if you're lucky you may spot the Great Northern Loon, which builds nests along the banks of the lake.
Hiking trails for everyone in Greenland
Whether you are for a longer trekking or a shorter hike, you will find it in Greenland. Greenland's nature offers hiking routes for everyone in different levels of difficulty. But no matter if you are experienced in hiking, or you are on your first adventure, it is a good idea to be well prepared on the Greenlandic terrain - both physically and with the right equipment. There are many hiking routes and in addition to the marked routes, there is also ample opportunity to find your own unique route surrounded by Greenland's magnificent nature.
There are many hiking trails and in addition to the marked trails, there is also ample opportunity to find your own unique trail surrounded by Greenland's magnificent nature.
A hike in Greenland takes place in terrain and involves moderate physical activity with a duration of a few hours or a whole day. If you want to challenge yourself, you can go on a trekking that lasts several days. Here, endurance and good physical shape are crucial.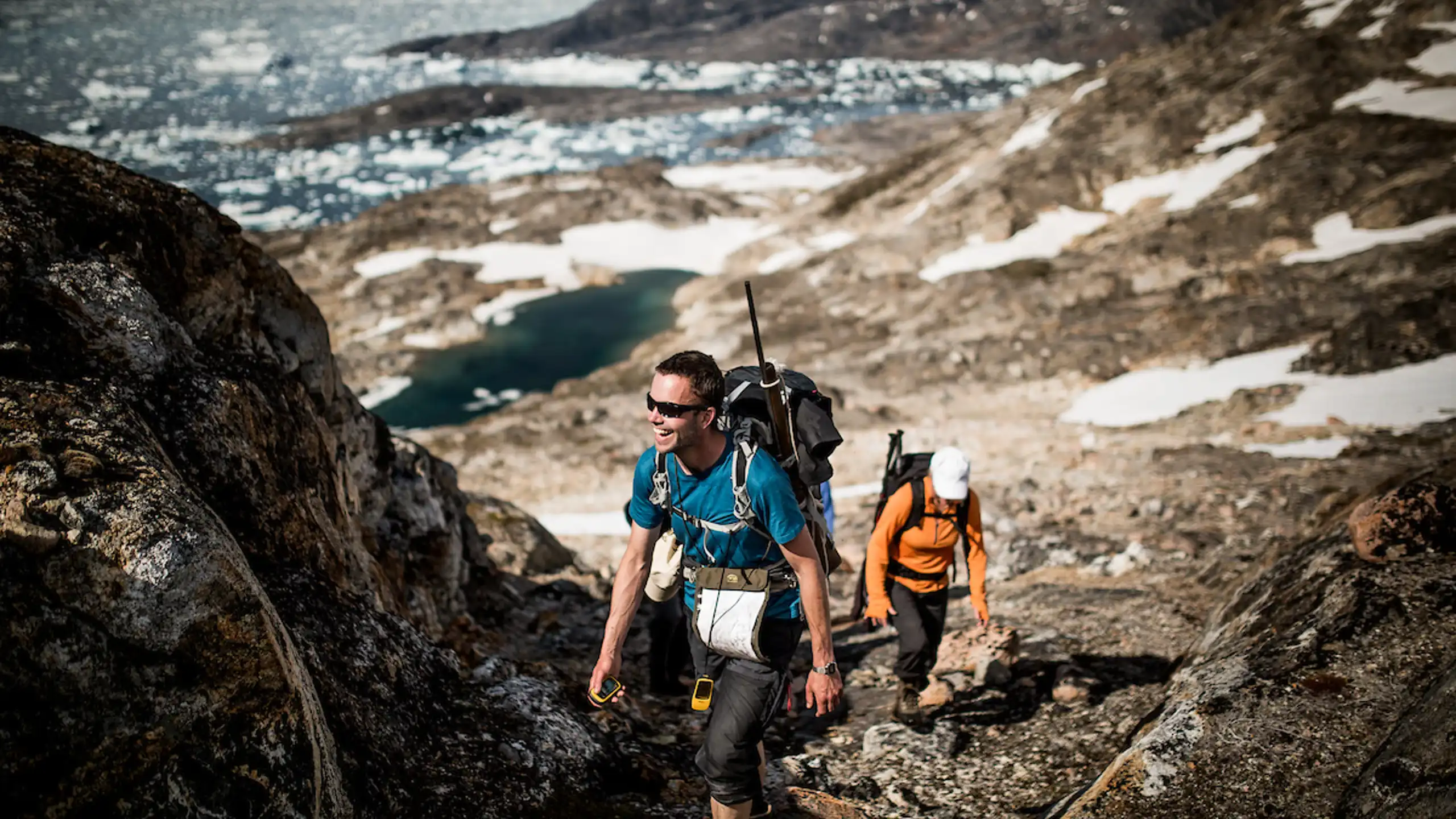 Photo Mads Pihl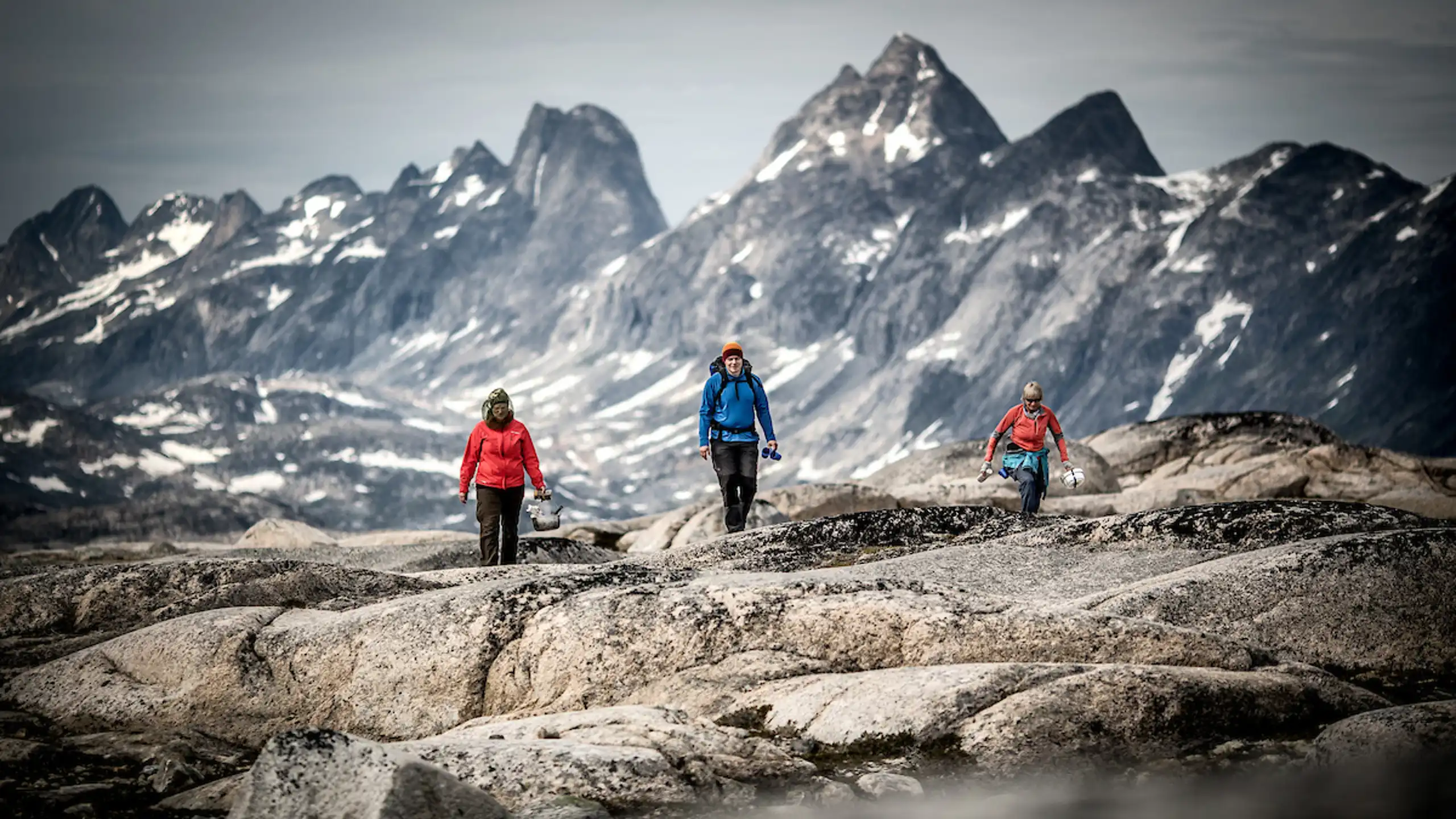 Photo Mads Pihl
Glacier hike in Greenland - a unique experience
Glacier hiking is hiking on a glacier. If you want to hike on a glacier, it requires knowledge and experience, as it's an extreme hike that can be completed in varying degrees of difficulty. Glacier hiking is assumed that you have the right equipment in the form of ice axes and other safety equipment. Participants must also be connected by rope and wear spiked shoes.
Glacier hiking is a unique opportunity to move out on glacier fronts that give you a unique view of Greenland's magnificent nature. Glacier hiking can be done in several places in Greenland with authorized and trained guides.
Try extreme hiking in Greenland
Hiking is a very special experience for body and mind. Because it is a physical activity that goes relatively slowly, you will feel your body in a completely different way than otherwise along the way. Extreme hiking is for the experienced hiker who has walked a lot of miles in different terrain.
Because Greenland has so much varied nature - then there are really good opportunities to try your hand at extreme hiking for the first time. In Greenland, you can quickly get help, advice and guidance from local guides, so you can feel completely safe by trying a unique and extreme hiking holiday.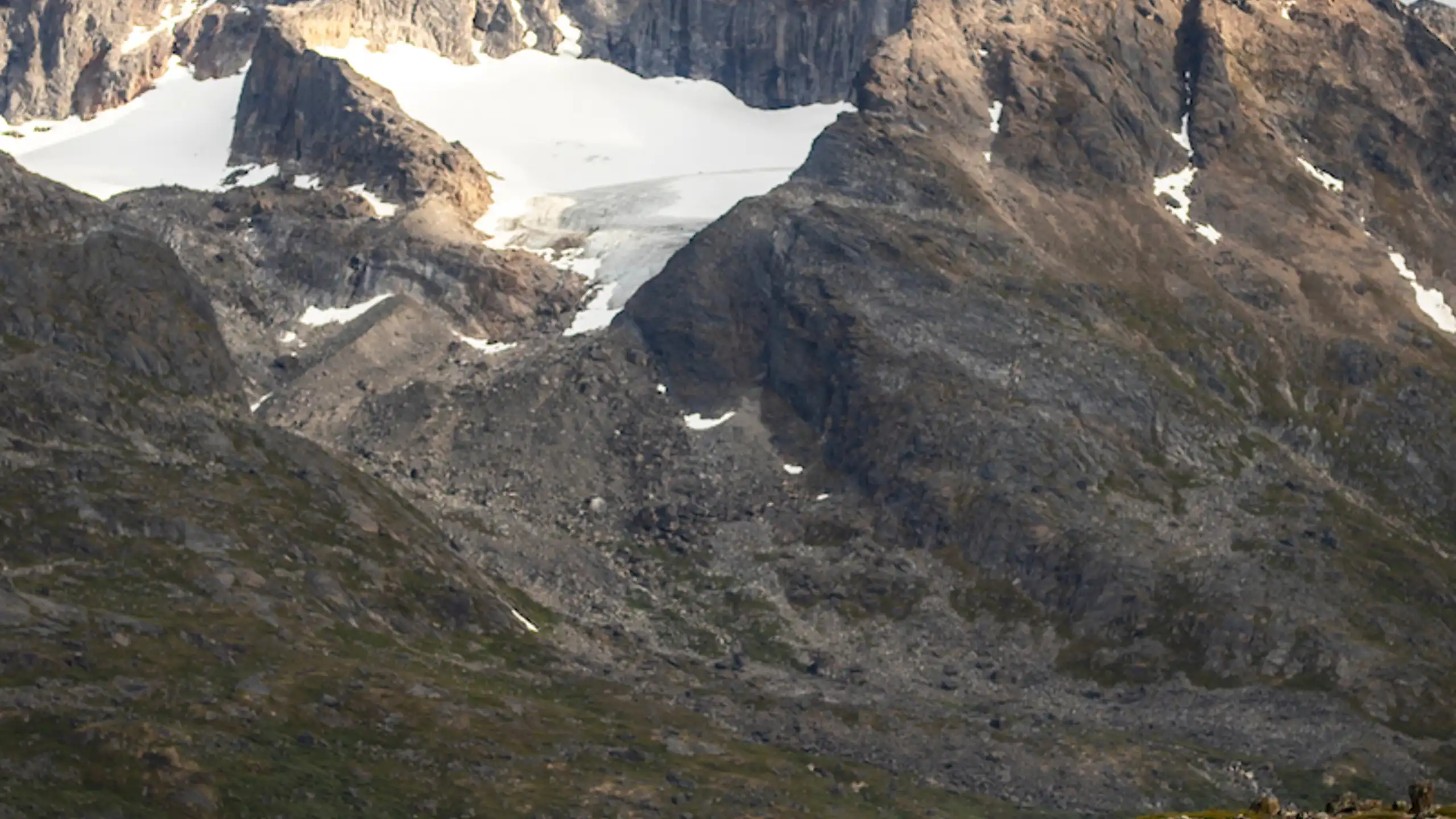 Photo Aningaaq R. Carlsen
Photo Aningaaq R. Carlsen
Hiking tours from Sisimiut
A hike in Sisimiut heads out over a lush south-facing slope where you can enjoy the view of the town while you walk through the green vegetation of bushes, flowers and moss. Small waterfalls are among the elements to enjoy. Fill your water bottles with the clearest spring water. From the top of Præstefjeld there's a fantastic view of the town and Kangerluarsuk Tulleq.
You can also choose a trip with historical buzz. Teleøen, Sallinnguit, brings together past and present. Here, different cultures have lived through 4,000 years with tracks that stand in diametrically opposed to the telecommunications equipment that has given the island its name.
Hiking holiday in Greenland: 180 km in ten days
You do not get around the world in ten days, in return you can take the Arctic Cirle Trail between Sisimiut and Kangerlussuaq. The hiking route can be described as extreme hiking, and it is one of the longest marked routes in Greenland. With more than 160 km, the route often takes between nine to ten days to complete. Walk through valleys and along lakes in a varied landscape. It is great to take this classic hiking route if you have the right equipment on the road.
However, it is important that you train to cope with this hike in Greenland, the terrain you will hike in is extremely varied, so to take care of yourself and your body, it will be best with a thorough training up to your hiking holiday in Greenland.
How to train up for the hiking holiday
To have a good experience with a hiking holiday, a good preparation is absolutely essential! It is important that you have trained your body beforehand so that it can withstand the load of walking.
Depending on how hard a hiking route in Greenland you want to go on, your preparation should start somewhere between 3-6 months in advance. Here it is important that you go out for a walk every day, and that you supplement your walks with a little strength training, so that your back and core muscles are in place. Remember that you often hike in Greenland with a backpack, and therefore you should also train with the backpack you need to bring - it is a good idea here that you fill it with weight, in this way you prepare yourself as best as possible.
Hiking in Ilulissat
The highlands behind the town of Ilulissat invite for hiking. Take e.g. 11 kilometers into the hinterland to Nalluarsuk. A trip in the Sermermiut valley is also recommended. Traces of the first people in Greenland have been found here.
Trekking in South Greenland
South Greenland is worth highlighting as a classic trekking area with lots of inlaid experiences in a lush area. Whether you are for a day hike with lunch in your backpack or for several days of trekking with a tent and sleeping bag, you will find it in South Greenland. Here wilderness and hiking trails entice.
DID YOU KNOW?
---
The best months to go on a hiking holiday in Greenland are from the beginning of June until and including September.
Our partners World of Greenland in Sisimiut and Ilulissat have many different types of hiking trips on their programmes. Guides describe the history of the area in question, whilst you can look at ruins, animals, memorials and enjoy the views.
Both fell hiking and glacier hiking are possible in Greenland. The latter requires knowledge and experience and the necessary equipment in the form of ice picks and other safety equipment.
Good hiking maps are available in 1:75,000 scale.
In Greenland everyone can make their own campsite. You just pitch your tent wherever you find an attractive spot. You can fetch clean water from the nearest river.
Greenland Travel offers hiking trips all over Greenland. In the south, in the west and a hike over 13 days in East Greenland. The agency has been arranging hiking for more than 25 years and if anyone has the expertise to put together the perfect hiking holiday in Greenland for you!
Book your experience here: